1 – Download the Fiddler 4 application and install it on the machine used to reproduce the problem (if you have not already).  Go to http://www.telerik.com/download/fiddler
2 – Enable the option to  decrypt HTTPS traffic: Tools -> Options -> Https -> select 'decrypt HTTPS Traffic' (you may be prompted to install the Fiddler certificate – make sure to select Yes)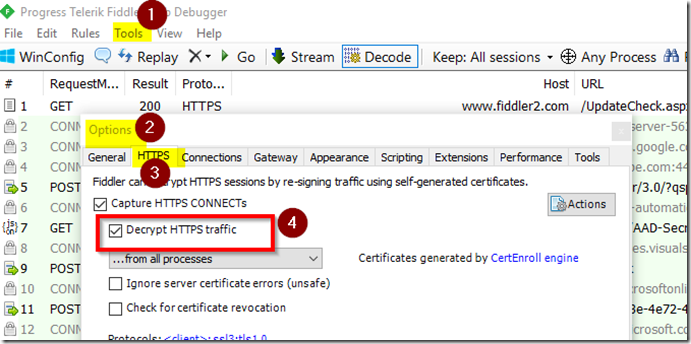 Ensure this option is checked when collecting the trace as the data will have to be recollected if it is not.
3 – Restart the Fiddler program
(For browser-based apps)
4a. Either use private browsing mode or clear the client browser cache on the machine you will be testing from (many files are downloaded once by the browser and then cached and so will be missing from the trace unless the cache is clear; we need to see javascript and stylesheet files etc. to look for rewrite errors).
(For non browser-based apps)
4b. Launch your client application
5 – Reproduce the problem and you should see https traffic showing up in the Fiddler window.
6 – Save the resulting session output as SAZ files (File -> Save -> All Sessions)